Welcome to a Blog all about the miniatures I'm making.
Hello World!
Welcome to a Blog all about the miniatures I'm making.
First up are the famous Ironclad ships the USS Monitor and the CSS Virginia (also known as the Merrimack). These miniatures are 1:1200 scale and have been cast in resin. I've created the miniatures, painted a pair of them and put them on ebay here…
http://www.ebay.co.uk/itm/Ironclad-USS-Monitor-CSS-Virginian-1-1200-scale-ship-Painted-/120972905827?pt=UK_Collectables_Nautical&hash=item1c2a8c0d63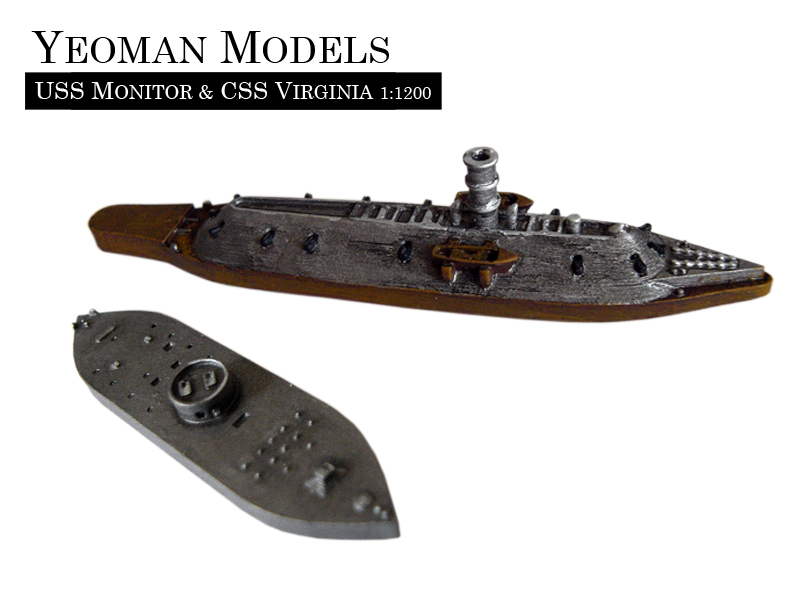 The USS Monitor measures 44mm x 10mm x 5mm
The CSS Virginian measures 70mm x 13mm x 13mm
Making these miniatures was a lot of fun. I exaggerated some of the detail on the Monitor to give the hull some interesting texture elements, but the most complex was the Virginia. Many of the plans I found of this ship contradicted each other. I took as much information from Primary source photographs as I could, but parts of the ship are based on museum models and plans. Overall I think I captured something of the 'Frankenstein's monster' nature of the CSS Virginia – a ship created by cutting, slicing, tearing and adding to the old USS Merrimack in 1861.
Choosing the right colours for the CSS Virginia was a little difficult too as all the photographs of the actual ship are black and white, and paintings and models of the ironclad that I saw had a range of colours from red wood and black metal, yellow wood and almost silver cladding or what I chose in the end, a brown wood and Citadel's Gunbolt Metal colour. If anyone knows of the accurate colouring of the CSS Virginia, please drop me a line!
Well, that's my first post. I hope you like it and come back for more miniatures!
If you have any questions, want to contact me for more details or would like me to make a miniature for you, please email me at yeomanmodels@gmail.com