World War II Miniatures
Hello again,
Today's blog post is all about our World War II miniatures. We have our newest and biggest miniature yet, also a rather futuristic looking WWII German jet powered bomber as well as a round up of older ones I've mentioned on the blog before. After all of that there will be a little about what I'm planing for the future and a few links to look at.
First off, The Big One!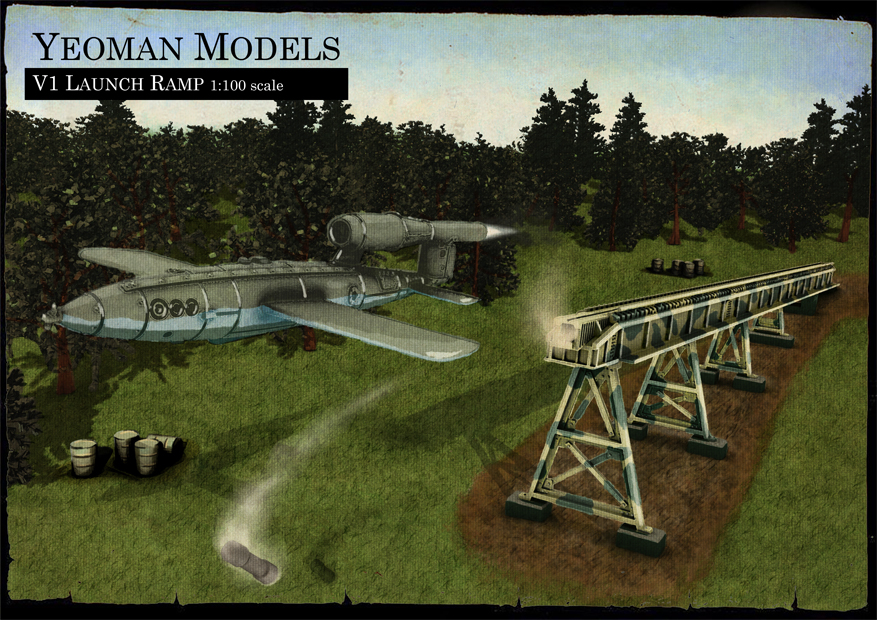 V1 Rocket and Launch Ramp
Above is a digital painting I made of the biggest miniature we've ever created. A 1:100 scale, Flames of War compatible V1 and Launch Ramp.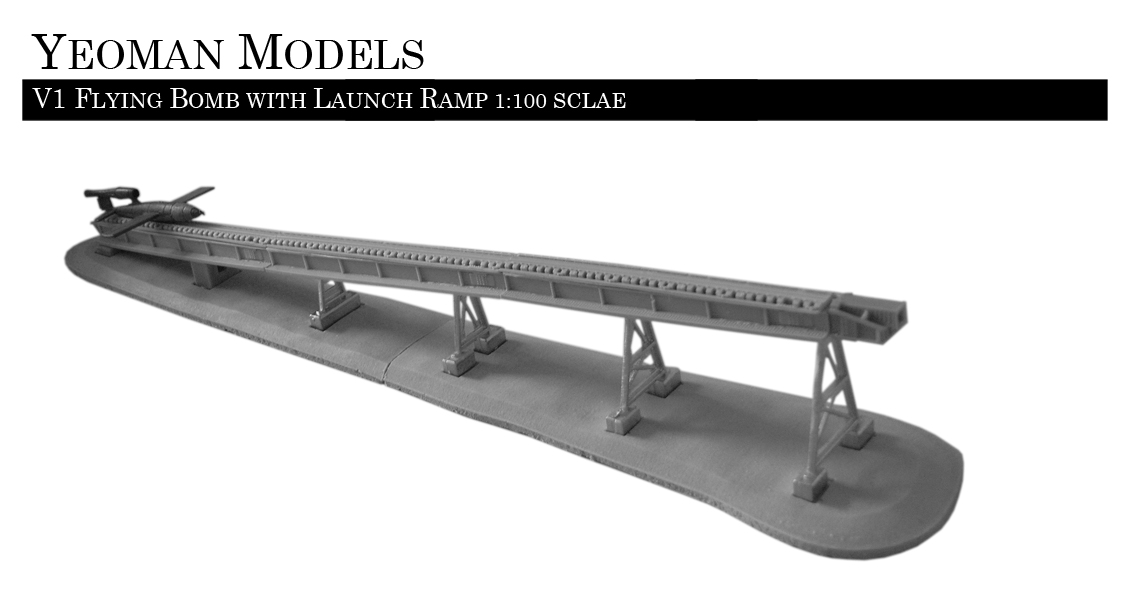 The V1 miniature measures 80mm x 53mm x 14mm and is cast in white metal and is also available to buy on it's own here.
The V1 Launch Ramp measures 39cm x 6.5cm x 6.5cm. The base and ramp pieces are made of resin and the ramp stanchions are made form a white metal.
The kit consists of 22 pieces.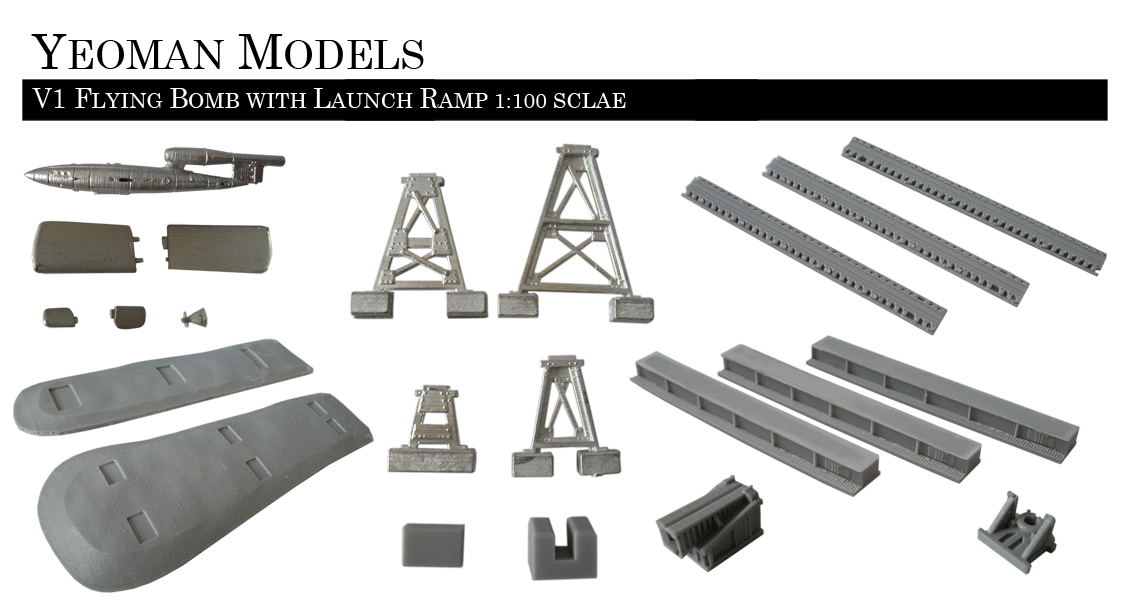 Some parts are small and are cast in a white metal that contains lead. So for both these reasons this item is unsuitable for small children.
Printouts of the building instructions and information about the V1 and Launch Ramp are supplied.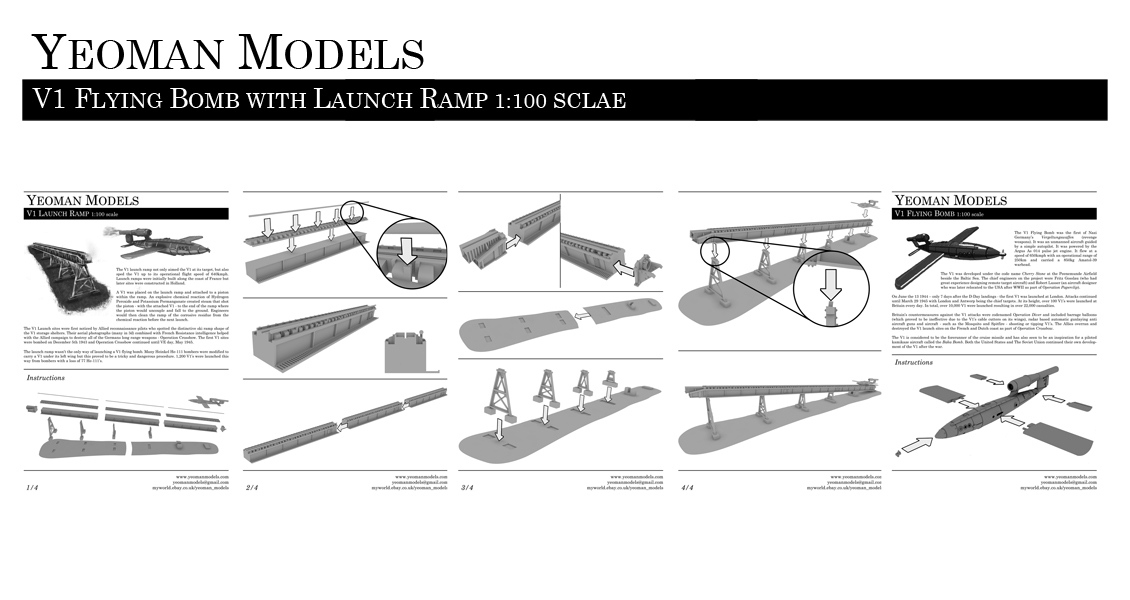 This miniature's been a long time coming but it's finally here! We've worked hard to make this and I hope you like it! It's available from eBay here.
If you are interested in the V1 and Launch Ramp, there's a video of a German training film from 1944 on Youtube here. It's in German – I can't speak German but if anyone out there can and is able to supply subtitles for the film that would be excellent. I see that subtitles have been requested in the YouTube videos comments. It's still fascinating to see the ingenuity and engineering that went into this incredible machine that was unfortunately used for such a destructive purpose.
Also – if you can find it – the BBC made a great documentary about Operation Crossbow and how the allies used 3D reconnaissance photographs to help find and destroy V1 and V2 launch sites. Click here for info and clips from the programme.
Flying Wing
The second WWII miniature we've released is the Horten Ho 229.
This is our first aircraft and it's a doozy. The Horten Ho 229 was a prototype jet powered bomber from 1944. I think it looks quite futuristic. Not just Sci-fi but Sky-fi!
It's a is a 1:144 scale miniature and measures 11.5cm x 5cm x 1cm.
Part's require preparation like the removal of mould lines or filling of tiny air bubbles before painting.
We've already sold a few of these models and the model makers who have bought them have given some fantastic ideas for other WWII aircraft they want made, so expect some more flying marvels in the future!
You can find this miniature flying wing on eBay right here. 
Other WWII Miniatures
Here is a list and links to the other WWII miniatures we've made…
WWII Nissen Hut Miniature 1:100 scale TT Guage and Flames of War compatible
Nissen Hut Miniature HO Gauge 1:87 scale
V2 Rocket miniature WWII 1:100 scale TT Gauge and Flames of War compatible
Future Plans
We plan to make a few more 1:144 miniatures as well as a launch platform for the 1:100 V2 rocket. Also in a month or so we should have our first 1:56 scale WWII miniature compatible for players of Bolt Action!
Also, along the way we will be making some more TT Gauge train items and a few science fiction items for you to enjoy.
LINKS
If you bought one of our Police Box models and got rather messy painting it up, why not get clean with some TARDIS soap from the delightful Design by Fee. And while you're there, check out her etsy shop!
On the NZ120.org website a fellah is making a 'What if' train layout for a place in New Zealand called Golden Downs. He's setting it in the mid 70's. It sounds like an interesting project and if you want to read about his progress or if you have any photographs of the area from that era, head over to http://www.nz120.org/forumtopic/downs
Yeoman Models have been mentioned on the Dorset 3mm society website!
http://dorset3mm.blogspot.co.uk/2012/11/yeoman-models.html
I'd like to thank them for their lovely comments about the TT Gauge phone boxes and post boxes that we've made. You can also see their painted RAC phone box here.
Epilogue
Well done if you've made it to the end of today's blog. It's been quite a long one; And thank you to everyone who's bought from us over the last few months. We've now smashed through the 100 feedback score on eBay! Keep your eye out for more miniatures from us and I'll speak to you again soon.